About Topsail Island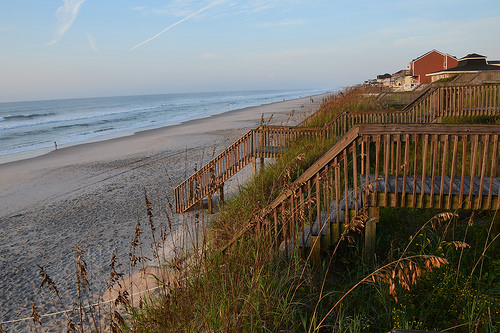 Haven't vacationed here before? Topsail Island, North Carolina is the best kept secret on the Crystal Coast! We're about 30 minutes north of Wilmington. We're not overcrowded like some other vacation spots along eastern North Carolina!
Pronounced " tops'l", our 26 mile long barrier island was used in the 1700s by pirates who hid their ships in ambush awaiting hapless merchantmen that might pass by the Carolina coast. Only the pirates' topsails could be seen over the dunes, hence our name.
There are about 3,500 year-round residents on the island enjoying the quiet, seaside lifestyle. We islanders are very protective of our environment. We even have "The Turtle Hospital": the all-volunteer Topsail Turtle Project and Karen Beasley Sea Turtle Rescue and Rehabilitation Center.
Topsail Beach is one of the premier vacation spots that is sure to lure you back year after year! Call us now or browse our website and find the vacation home that's well suited to your needs! The friendly and experienced staff of Island Real Estate can help you!
To start your search for a Topsail Island vacation rental property, please choose the "Vacation Rentals" button.
Looking to buy real estate on Topsail Island or in Surf City, North Carolina? Choose the "Sales" button.
Once you have booked your vacation rental, visit these websites for Topsail Island area services including:
Island Real Estate can help you find that perfect beach vacation or income property! Please contact us and find out what we can do for you!
OFFICE HOURS: Monday through Saturday, 9am - 5pm (EST)
CONTACT INFORMATION:
MAIL:
Island Real Estate, Inc.
P.O. Box 2690
Surf City, NC 28445
PHONE & FAX:
Office: 910-328-2323

Toll Free: 800-622-6886

FAX: 910-328-2095
WEBSITE: www.topsailvacation.com