---
10 Terrific Tips for Vacationing with Your Dog
Posted On Monday, November 25, 2019
---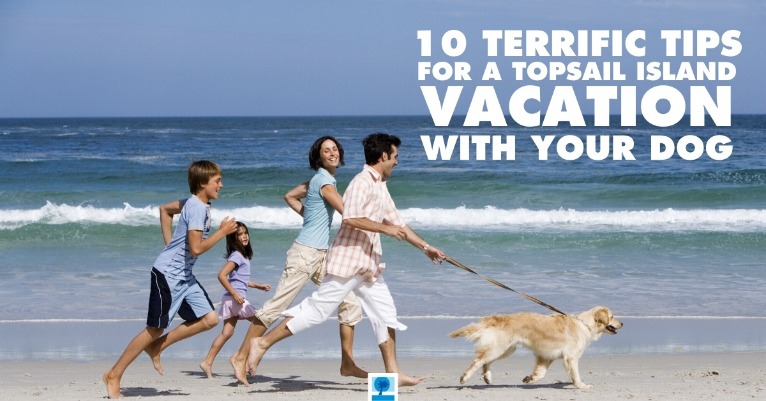 There are many people that just don't want to take a vacation if it means leaving their beloved four-legged family member at home. It is hard to have fun when you know such an important member of your family is feeling lonely and abandoned. That is why many opt for a dog-friendly vacation in one of our many Topsail rentals that allow pets!
You get a beach vacation, and your dog gets to join in on the fun. It is a win for everyone. That is why we put together these ten terrific tips that will make planning a trip for the whole family a breeze.
Make Sure Your Accommodations are Pet-Friendly
It is never a good idea to assume, right? Well, when it comes to your vacation abode allowing your dog to stay, assuming can cost you a place to lay your head. There are tons of Topsail Island vacation rentals that are more than happy to let you bring your pet--just make sure you ask when you book your trip.
Another good reason to check is there may be an extra fee involved when bringing the four-legged family member, so it is a good idea to know beforehand so you can adjust your budget accordingly.
Think About Your Method of Travel
It is, of course, a ton of fun to have your pet with you when you are cavorting around on the beach, but if getting to the beach will make your pet a shaking mess, then it may be better to leave the pup at home.
Some animals love a good road trip or are even fine going on the airplane. Other pets may be put under a lot of stress. A vacation should be a good time for everyone, so make sure that your dog is up for the travel before lugging him along.
Consider A Microchip
When making your vacation to-do list, you may want to include getting your dog a microchip if he or she doesn't already have one. Your pet won't be familiar with the area around your Surf City beach rental, and if he or she was to run off, they may not be able to find their way back home.
A microchip will give you a little peace of mind, and get your dog safely returned to you should a "jailbreak" occur.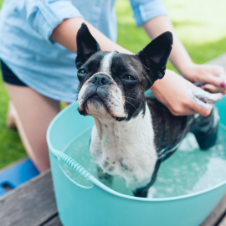 Give Your Dog a Flea Bath
Another step to add to your list is a pre-trip flea treatment. You want to ensure that your pet doesn't bring an infestation of fleas into your car or into the rental property.
Not all Topsail rentals are pet-friendly, so you don't want to be the reason another one drops off the list. Bringing a whole bunch of fleas into a rental will definitely have the owners thinking twice before letting a pet stay again!
Add Dog-Time to Your Itinerary
There are a ton of activities that you may want to partake in while you are on your beach vacation. However, when you are planning out the days of your trip, make sure that you include an adequate number of dog-time activities. You can't spend all-day, everyday jet skiing if you have a dog patiently waiting for you back in your Topsail Island vacation rental.
You will find that the beach has plenty of places you can have fun with your pet in tow. You just need to plan accordingly.
Pack Your Dog's Suitcase
You aren't the only one that will need to pack a bag for a successful beach vacation. Your dog will need her own items as well. A few things that you will want to include in the bag are a water bowl, her regular dog food (switching brands during a vacation can lead to an upset tummy), toys, her dog bed or blanket, a copy of her vaccination record, and a few doggie treats.
Making sure that you have all the items your dog needs to be comfortable will ensure a great time is had by all.
Increasing Comfort with Strangers
If your dog has mostly been a homebody, then you may want to get him familiar with places that are more crowded before taking him on a vacation. You don't want to be a few hundred miles from home when you find out that your dog does not do well with strangers.
Start by taking him to dog-friendly social places like a park or even a brewery. See how he interacts with new people and strange places. This will keep your dog from getting a shock to the system when you take finally get to the beach.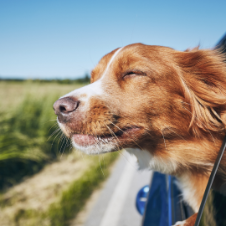 Travel Safely
Once you are ready to hit the road, you want to ensure that your dog is traveling safely. That may mean getting a special dog seat belt harness or even crating her for the ride. However, you decide to go, safety should always be the number one concern.
You want everyone to make it to your Surf City beach rentals safe and sound!
Leashing Your Pet
While you are wandering around town and prancing along the seashore, it is good manners to keep your dog leashed. She will likely be full of excitement with all of the new sights and smells and may be a bit rowdier than usual. Even if she is usually fine at home without a leash, it is a good idea to use one on vacation.
This will protect your dog from running out into traffic, wandering off and getting lost, and make those you are sharing public spaces with feel safer. There are many people that get nervous around dogs, especially big dogs, and having one running leash-free can cause a lot of anxiety.
Please be sure to check with municipal regulations regarding lease laws.
Cleaning Up After Your Dog
Your dog will need to relieve himself while you are on vacation, that is just a natural fact. Even if it isn't required in your hometown or in the place where you are vacationing, part of being a good pet owner is cleaning up after your pet. Make sure that you have plenty of baggies on hand each and every time you walk your dog.
Now that you have these ten terrific tips, you can start the search for the perfect pet-friendly Topsail rental! If you want to read more about brining your pet to Topsail Island, check out this blog post.
Comment on this post!