---
5 Blissful Reasons Why Topsail is Divinely Perfect in Fall
Posted On Monday, October 2, 2017
---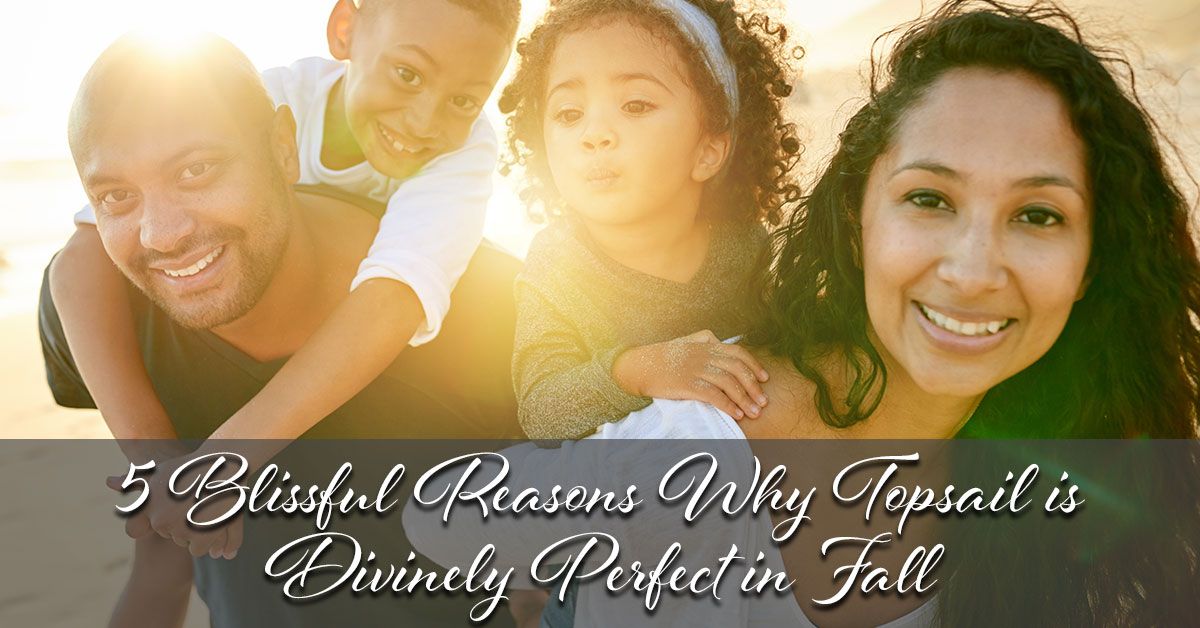 Do you long for beautiful color encapsulating the trees and dripping down into the streets? Cool air caressing your cheeks and gently tossing your hair (without blowing it into your face of course, because no wind should ever be that impudent!)? And sweet, soft scents of cinnamon and nutmeg and strong coffee?
Isn't this just the perfect picture of a blissful fall afternoon? A beautiful setting for family play time in the piles of crunchy fall leaves in front of the houses in your neighborhood? Of course it is! And the only thing that could make it more perfect? The sweet, soft sound of the ocean rolling serenely over your tired and peace-longing senses, of course! Which is exactly what you will get to indulge in when you come on a vacation to Topsail Island! Fall is a gorgeous season, no matter where you are at, but it is especially divine in Topsail. In case you aren't convinced yet, here are 5 reasons why Topsail is THE divine fall beach vacation destination!
1). The Temperate Weather
The beach is stunning no matter the time of year…even in the midst of summer when the sun beats down on you and makes you long for air conditioning when you are anywhere but near the water. In the fall, Topsail Island gets treated to the same gorgeous, temperate temperatures that the rest of the country gets to experience. Which makes the beach only more beautiful. This time of year, the temperatures range from the high 70's in the middle of the day to the mid 50's in the evening and at night. When you translate this into the activities you want to indulge in during the week, this means that you can frolic in the waves and comfortably build sand castles on the beach with your children or grandchildren after a picnic lunch. And then you can wrap up in your favorite sweater while walking under the stars with the love of your life after a romantic dinner. Ah, fall - such a romantic time of year!
2). The Art
This year on October 21st and 22nd, a fabulous festival will be held on the grounds of the historic Missiles and More Museum. There will be a huge display of art with over 100 regional artists displaying their artwork. Many of these same artists will also be entered in a competition. Along with beautiful artwork on display and for sale, there will also be beautiful and exciting live musical entertainment, lots of delicious food, and even beer and wine. And of course, there will be fun and games (and even rides!) for the kids! This fabulous Autumn with Topsail festival will not be something that you want to miss!
3). The Tree Lighting
Another reason that Topsail is absolutely divine in the fall is the stunning and grand tree-lighting that they have in November! On November 18th this year, Surf City is hosting a fabulous celebration that culminates in the lighting of a ginormous tree. Check out this Facebook event here to discover more.
4). The Quiet Beach
While we don't know why every one doesn't come to the beach in the fall, since it is so beautiful and full of fun, the fact that many people do not choose fall in Topsail Island as their optimum vacation time and place means that the beach is supremely quiet! This is a lovely blessing for those who do come to Topsail Island. Fall not only has perfect weather for you to enjoy at the beach. It also brings with it stunning and sweet serenity - more serenity than usual! You can have the beach, essentially, to yourself! Doesn't that sound blissful? For us, at least, this is the most tempting boon that fall offers.
5). The Ocean
Of course, no matter what time of year you come to Topsail Island, you will always have the supreme beauty of the ocean! That sweet, constant, yet always changing body of water. It is the fact that the ocean is always there for you - always listens when you want to cry into its salty waves, and always quietly lapping away while you laugh at its side under the stars - that makes it so soothing and appealing. It is ever-changing yet always the same. Like your sweet best friend that is one in a million. This soothing quality of the ocean is always here - always waiting for you.
Come to Topsail Island this fall and let it sooth you - let the ocean waves wash away all your cares and leave you rejuvenated so that you can bound into the rest of the year with renewed vigor! Fall is a stunning season to visit Topsail Island…but it doesn't last forever! Book your vacation with us now - your rejuvenation can't wait a moment longer!
Comment on this post!