---
Essentials for Making the Most of Vacationing with a Baby
Posted On Monday, April 1, 2019
---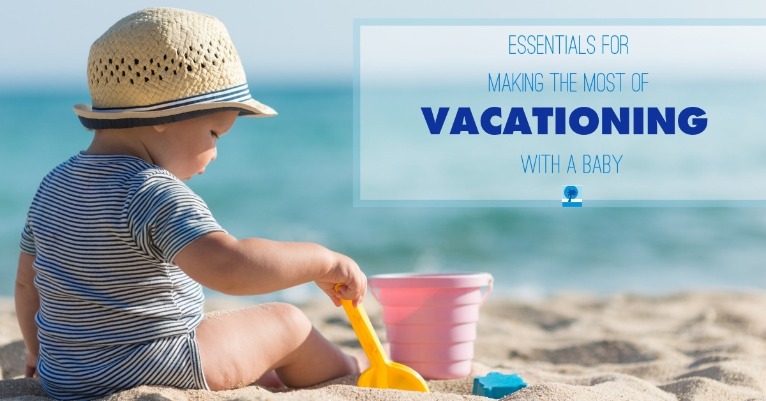 Taking your baby to the beach is so much fun! There is nothing like watching your baby explore and play on the beautiful beaches of Topsail Island, NC. Most babies love the beach, and for good reason. The sea gulls are exciting, the sand tastes so good (moms, you understand the struggle!), and it's so fun playing with all the beach toys! Whether you're a seasoned beach-going mom or a first timer about to embark on baby's first beach trip, we have a few awesome tips that are sure to make your next outing on the beach with your baby extra easy, fun, and stress free!
Sun Hat & Sunglasses
Protecting your baby's head and eyes from harmful UV rays is essential. Keep their head and eyes protected and happy by using a sun hat and sunglasses. Baby sized sunglasses can be found online and most come with straps to help keep them on baby's head.
Beach Tent or Umbrella
We strongly recommend investing in a beach tent if you're hitting the beach with your baby. These cheap, portable tents protect their easily-burned skin from the sun while keeping baby nice and cool in the shade. Beach tents also give your baby protection from wind and decrease the chance of sand blowing into their eyes. Beach umbrellas work well for shading baby also.
Beach Towel
It's always a good idea to bring a beach towel or two specifically for your baby (along with yours) when heading out on the beach. Not only can baby play on it, but it's also great for changing diapers, napping, and wiping sand off baby's skin.
Sunscreen
Nothing would break your heart more than seeing your baby hurting from a nasty sunburn. Make sure you pack at least SPF 50 sunscreen for your cutie pie and slather it on thick before hitting the beach. Don't forget to read the directions and reapply as necessary!
MOM APPROVED PRO-TIP:
Bring a clean fitted sheet! Lay it out on the beach and use your beach bag, cooler, wagon, or whatever you have to hold down each corner and you have created a clean, safe place for baby to play and enjoy her day on the beach!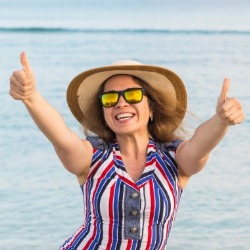 Bathing Suit/Rash Guard

Baby's need proper beach wear as well, so don't forget the bathing suit or rash guard. Rash guards with long sleeves are best for keeping your baby happy and protected from the sun while playing on the beach. They can splash in the water and dig in the sand, all while keeping their skin covered.

Spray Bottle Full of Clean Water

Babies are messy and love to play with sand. They also love to eat sand. Combat this with a spray bottle full of clean water, perfect for quickly spraying off any sand that may get into babies eyes, on her face, or in her mouth.

Swim Diapers

We've all seen the baby at the beach or pool with that huge, sagging, wet diaper. Throw a few swim diapers in your beach bag and keep your baby feeling great and having a blast with these specially designed diapers. They absorb water and don't fall off or sag as easily as regular diapers.

Water & Snacks

Keeping your baby (and yourself) hydrated is so important, especially when it's hot on the beach. Be sure to pack a cooler with plenty of water (or milk), ice packs, and healthy snacks for you and your baby. Your baby is sure to love things like bananas, strawberries, and yogurt. Not sure what to pack for the big kids and adults? Check these delicious snacks out here and here.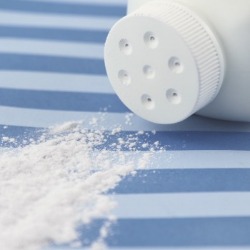 MOM APPROVED PRO-TIP:
We know your baby will totally love playing in the sand, but how do you get all those tiny specks of sand off when it's time to leave? Baby powder! Apply a decent amount of baby powder to baby's skin and watch the sand fall off.
Toys
It wouldn't be a great day on the beach without beach toys! Buckets, shovels, and cups all make excellent baby-friendly beach toys that will keep your baby entertained, learning, and having a great time.
Ziploc Bags
Ziploc bags make excellent waterproof holders for your electronics and things that you don't want getting wet. Bring enough for everyone's electronics plus a few extra (gallon size) to put any wet clothing in when you leave if necessary. Ziploc bags also come in handy for storing dirty diapers.
Small Inflatable Bath Tub
Got a baby who loves water? Bring a small inflatable bath tub! Blow it up, fill with ocean water, and sit baby in it for a splashing good time.
Change of Clothes, Wipes, & Diapers
It's a smart idea to always have an extra change of clothes anywhere you go with a baby! You never know when the next disaster (moms, you know what we mean!) might strike. Don't forget wipes and diapers as well.
Mom Approved Pro-Tip:
A mesh laundry bag ($1 at the dollar store) makes the perfect tote for sandy beach toys! Throw the toys in the bag, head up to your Topsail Island vacation rental, and rinse the whole bag down with the hose or outdoor shower. Now your baby's toys are ready for another day of fun on the beach!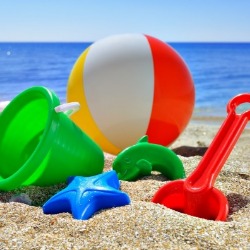 Wagon
It's so much easier to lug all of your beach gear to and from the beach with a beach wagon! Pack it up and head out onto the beaches of Topsail with ease. Most beach wagons fold fairly flat for storage when not in use, which is a major bonus.

First-Aid Kit
Of course we hope a First-Aid kit is never needed during your time on Topsail Island, but it's best to be prepared. Pack a simple, but efficient First-Aid kit so you're ready to handle any minor scrapes or boo-boo's your baby may acquire while playing on the beach.

Odds & Ends
To be so little, babies require a lot of stuff! Don't forget to bring their favorite animal or blanket for nap time, shoes if baby can walk, any spoons or feeding utensils, bottles, cover ups, or things like that. It's better to take it all out on the beach with you than to be upset, wishing you had something you didn't bring.

Now that you know exactly what to pack for a fabulous day with your baby on Topsail Island, all that's left is to find the perfect vacation rental! Take a look at this awesome group of oceanfront homes, which are super convenient when hitting the beach with your baby. We can't wait to help plan your next Topsail Island, NC getaway and look forward to seeing you, your baby, and your whole family out enjoying our beautiful beaches!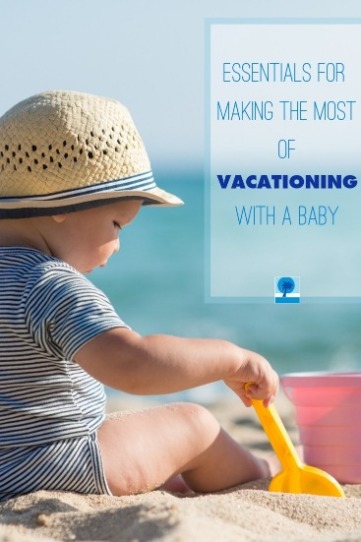 We'd love to hear your beach tips for beachin' it with baby! Leave us a comment Below.
Comment on this post!