---
Healthy Coastal Recipes That You Will Love
Posted On Monday, January 7, 2019
---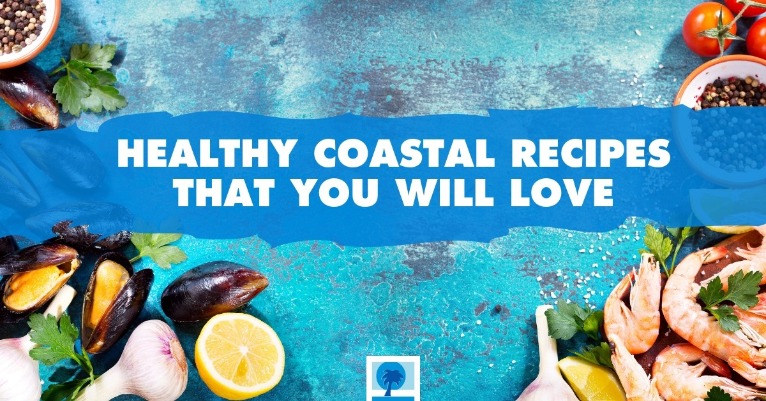 Entering a new year is always a fun and exciting time filled with hope and expectations. We make resolutions to improve certain aspects of our lives and hopefully, we stick to them. Health and fitness are usually on people's minds this time of year and we hope this list of healthy coastal recipes will help kick off your new year in a positive, delicious way!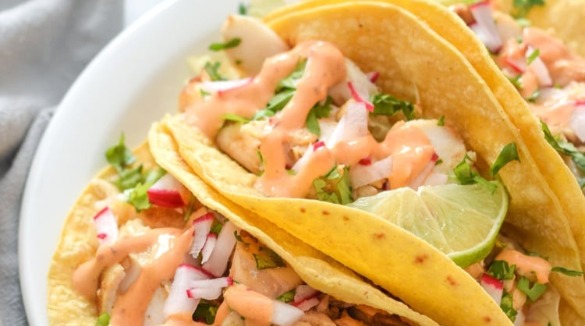 Fish Tacos with Chipotle Lime Crema
If you don't have tons of time to cook a lengthy recipe, give these quick fish tacos a try. Not only are these tacos super healthy and gluten free, but they look so delicious! There are even options to make this recipe dairy free. The great thing about tacos is there are endless topping possibilities so get crazy and enjoy!
Baked Seafood Stuffed Avocados
Avocados and seafood are both incredibly healthy, so why not combine the two for a power packed meal? This recipe will satisfy any seafood lover, as it includes both shrimp and crab meat. Avocados are loaded with potassium, healthy fats (which promote heart health), fiber, antioxidants, and have many health benefits, so go ahead and indulge with this great recipe! Not sure how to pick the best avocado?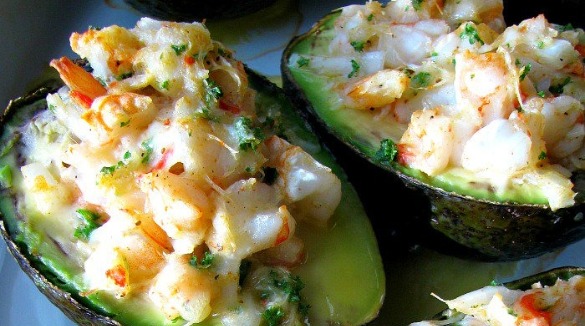 Give it a good squeeze with the palm of your hand. If it gives a bit with the pressure from your palm, it's ready to eat. Also, you can look at the color. Darker avocados are typically more ripe and ready to eat than the lighter ones.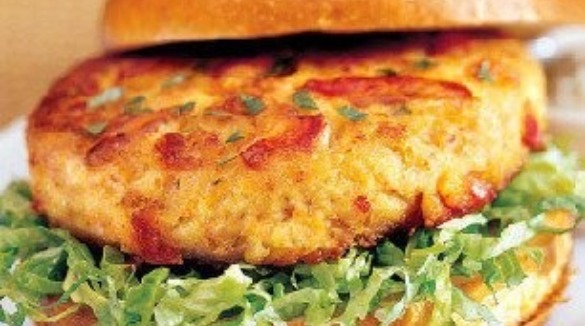 Crab Cake Burgers
These lovely, golden brown crab cake burgers are healthy, crispy, and sure to please! In a pinch for time? No worries, as these burgers cook up super quick. Serve with a side of steamed veggies, brown rice, or make your own sweet potato fries.
Cajun Mahi Mahi with Mango Pineapple Salsa
This beautiful Caribbean-inspired dish can be whipped up super-fast and will have you wishing you were relaxing by the waves on a coastal vacation. It is also gluten free and can easily be customized to fit your family.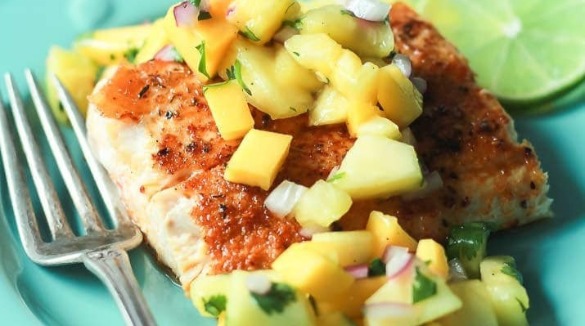 Shrimp Pasta with Creamy Mozzarella Sauce
Who doesn't love a delicious, creamy pasta dish? This recipe is great for cold nights and will warm you up in no time. You can make it even healthier by using whole wheat or vegetable pasta instead of traditional white pasta. Shrimp has many wonderful health benefits such as it supports healthy bone strength, supports brain health with tryptophan, contains antioxidants and healthy fats, and
and much more. As with all seafood, fresh shrimp is much healthier than store bought packaged shrimp so try to purchase all your seafood fresh if possible.
Seared Garlic Scallops
If you have never tried scallops, they are a must! They are delicious, especially when cooked in a great sauce. Like other seafood, scallops are living creatures. Did you know the rings on their shells represent a year of life and growth for the scallop? Scallop shells can also grow very large, up to around 9 inches in diameter. This tasty recipe would be great served with whole wheat or vegetable pasta and a side of fresh, steamed veggies.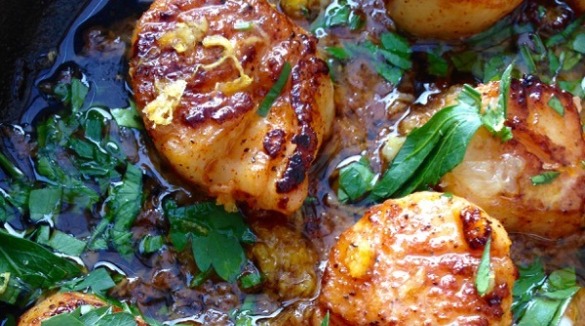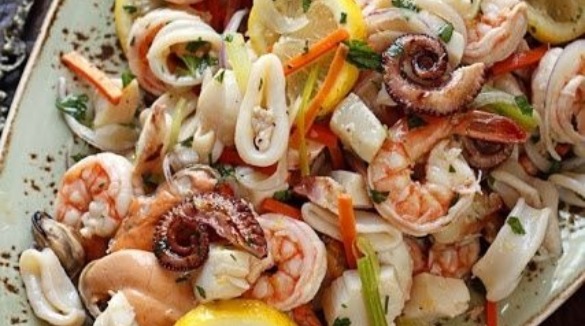 Marinated Seafood Salad
This seafood packed salad is great for a backyard barbecue, an impressive dish for guests, or just a week night meal because you love it. It includes octopus, shrimp, calamari, and crab meat and will please any seafood lover. This recipe needs to marinate at least 12 hours, so make sure you allow for that when planning to serve it.
Blackened Fish Burger with Sriracha Mayo
Most people think of beef when they think about what makes a great burger, but fish can make a delicious, healthier version as well. These blackened fish burgers are healthy, quick to make, and loaded with flavor! You can make the sriracha mayo as spicy or mild as you wish and add as many healthy toppings (like lettuce, tomatoes, cucumbers, and carrots) as you like.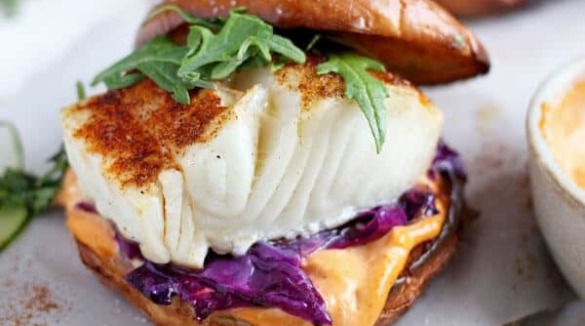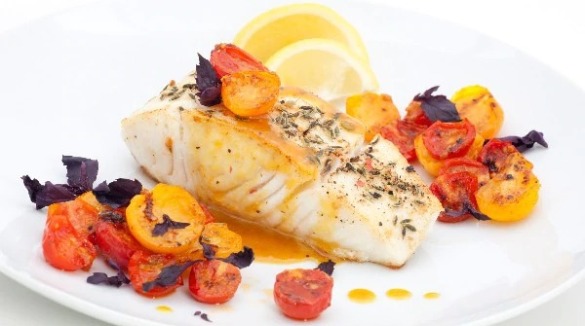 Pan Seared Halibut with Roasted Heirloom Tomatoes
As with most seafood recipes, this great halibut dish cooks fast and is ready to serve in only 20 minutes! How great is that for those busy weeknights? Halibut is a type of flounder, so this recipe can easily be tailored with different specific fish to better suit your tastes or needs. Did you know Atlantic halibut can live up to 50 years? That's impressive.
Perfect Lobster Tails
Most people reserve lobster and lobster tails for special occasions like date nights and anniversaries, but who says you can't have perfectly cooked lobster tails at home any time you want? This delicious recipe even includes a video that teaches you how to properly butterfly the lobster tail and has several side dish recommendations. Give it a try one night!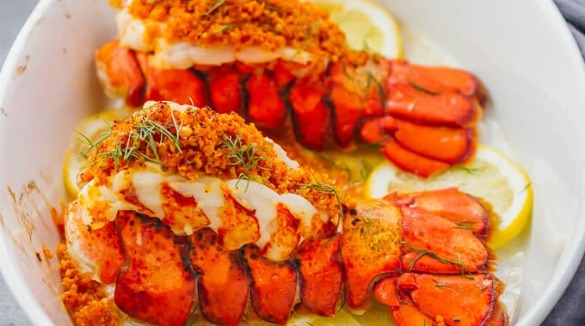 Seafood is so versatile, and the delicious possibilities are endless. Although these are just a few great healthy coastal recipes, we hope that they will inspire you to incorporate a healthy diet into your life (that's also full of flavor!) and start 2019 off with a tasty bang. Another great thing about these recipes? All of them can easily be cooked in most of our wonderful Topsail Island vacation rentals. What could be better than enjoying a fresh, delicious, home cooked seafood meal at the beach with your family? Check out our available rentals, start collecting delicious and healthy coastal recipes, head to the beach, and enjoy!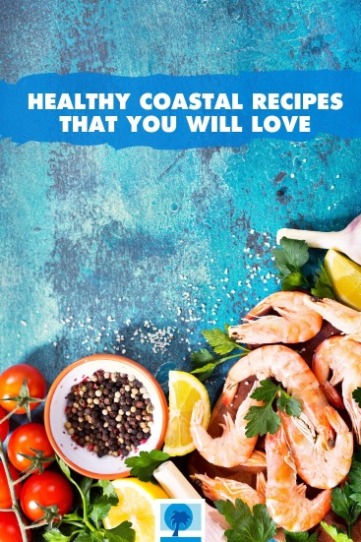 Which dish will you try?
Leave us a comment and let us know.
Comment on this post!