---
How to Add Coastal Inspiration to Your Christmas Decorations
Posted On Thursday, December 12, 2019
---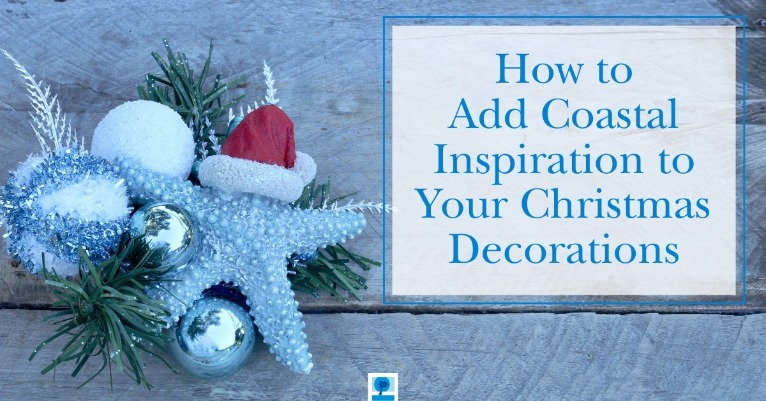 The dreary winter weather may have you longing for the balmy summer days spent in your Topsail vacation rentals, but you can bring some of that beachy vibe to your holiday decor to make the chilly afternoons more bearable. There are a lot of ways you can celebrate the beach when putting up your Christmas decorations, and this post is going to give you the coastal inspiration you need to feel like you are back with your toes in the sand.
It's All About the Ocean Hues
We know that Christmas colors are traditionally red and green, but there is no hard and fast rule that says you have to use that same old color palette year after year. Venture away from the norm this holiday season with colors more likely to be found in a beach vacation rental to give your Christmas the coastal flair you are desire. With a little bit of searching, you can find holiday decor in ocean hues like blue, turquoise, gold, silver, and white. Whether you switch out all your decor to these beach-themed styles or simply add a few accents is up to you! Check out this Coastal Living Christmas tree for a little bit of inspiration on incorporating ocean colors into your holiday decor.
Trade Your Cones for Coral
A lot of winter decor includes pinecones in centerpieces, mantle displays, and coffee table bowls, but pinecones don't really bring to mind those lazy days spent wandering around Surf City, do they? Switch out those pinecones for coral, and you will almost be able to hear the sound of the waves crashing in the distance.
There are so many ways that you can add a touch of coral to your holiday (or even your everyday!) decor that you are sure to fall in love with this little accent. You can find plenty to toss around your home at hobby stores, craft stores, and even big-box retail sites like Amazon.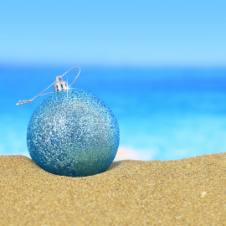 Cover Your Tree in Coastal Ornaments
You can never have enough Christmas ornaments, right? Plus, they are the perfect way to add a bit of the beach to your holiday decorations! There are plenty of DIY options to keep you busy until it is time to head back to your Topsail vacation rentals...or at least until the Christmas season is over.
Check out these adorable options like the faux nautical glass floats. These ornaments are made from foam balls but look just like traditional nautical glass floats! What could be the perfect accompaniment for your nautical floats: Glittery anchors, of course!
This DIY is great because it allows you to make the anchors any color that you want so that you can perfectly match the rest of your decor...or maybe the exact color of the sky outside the window of your Topsail vacation rental window!
A Touch of Tropics
Another great way to get that beachy tropical feel in your holiday decor is to add in some citrus! Nothing says tropical, beach vacation like a cheerful lemon, lime, or orange. You may think that decorating with citrus would be difficult, but Coastal Living has a whole slide show dedicated to this exact tropical style.
Adding a few lemons to the centerpiece on your dining table can give your regular holiday decor a cool and fun tropical vibe! Click here for more inspiration.
Try a New Kind of Tree
One of the things that makes the beach, well, the beach is driftwood. If you really want to give your home a coastal vibe this holiday season, you can switch out your traditional Christmas tree for a driftwood Christmas tree!
It will give you a very minimalist appearance to your decor, and it will have you feeling like you are hanging out on Topsail Island. If you can't bear to part with your traditional Christmas tree, you could make some smaller driftwood versions to put on either side of your front door...or really tiny ones for your mantle.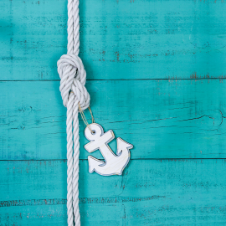 All Knotted Up
When it comes to Coastal Christmas decorations, there is no need to stop at the tree and the ornaments. You can also carry that theme right on into your gift wrap by topping the presents with nautical knots.
You can experiment with different sizes and ribbon styles, even adding bits of rope on the larger gift boxes. Pair it with some ocean-themed wrapping paper, and you will have all of your friends and family yearning for their own beach vacation!
Sand Dollar Cards
Another way you can add some ocean hues into your Christmas season is with beach-themed holiday cards. There are plenty of options on sites like Etsy, or you could even make your own on one of the card-making sites like Shutterfly. Add a photo of your family playing in the surf, and you will complete your Coastal Christmas decor.
Now that you have this list of tips on making your Christmas decor full of coastal cheer, you can bring a little bit of the beach to your holiday season. It should tide you over until it is time to go back to your Topsail vacation rental again.
Start the search for the perfect 2020 vacation rental today! Book early for the best availability. Need help? Don't hesitate to give us a call.
Comment on this post!