---
The Best List of Books to Read on the Beach
Posted On Monday, July 16, 2018
---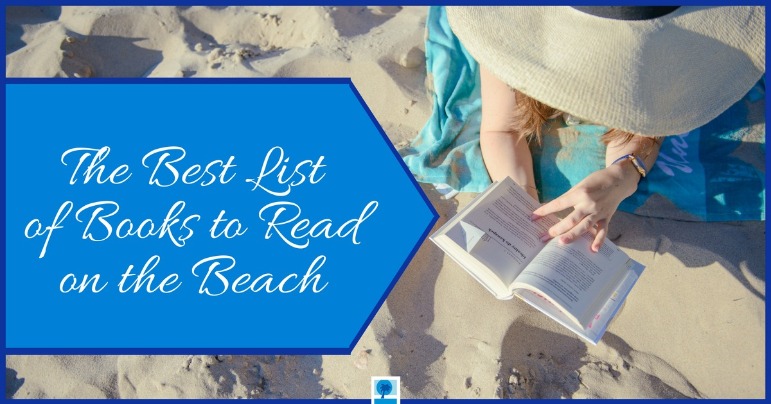 One of the very best things about going on vacation are those precious free moments, those moments when no one is calling your name and there's not a chore to be done. Vacations allow us to spend our time enjoying the things that we find most pleasant and to indulge our leisurely impulses.
If you're one of those special people who happens to like beach vacations AND reading, we've put together a wide-ranging list of 10 of the best books to read while you're relaxing on the beaches of Topsail Island.
Titles are presented in no particular order and are supplemented with publisher's description.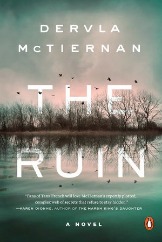 The Ruin, by Dervla McTiernan
It's been twenty years since Cormac Reilly discovered the body of Hilaria Blake in her crumbling Georgian home. But he's never forgotten the two children she left behind...
When Aisling Conroy's boyfriend Jack is found in the freezing black waters of the river Corrib, the police tell her it was suicide. A surgical resident, she throws herself into study and work, trying to forget - until Jack's sister Maude shows up. Maude suspects foul play, and she is determined to prove it.
Cormac Reilly is the detective assigned with the re-investigation of a seemingly accidental overdose twenty years ago - the overdose of Jack and Maude's drug and alcohol addled mother. Detective Reilly is under increasing pressure to charge Maude for murder when his colleague Danny uncovers a piece of evidence that will change everything...

This unsettling small-town noir draws us deep into the dark heart of Ireland, where corruption, desperation, and crime run rife. A gritty look at trust and betrayal where the written law isn't the only one, The Ruin asks who will protect you when the authorities can't - or won't.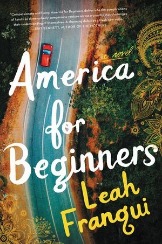 America For Beginners, by Leah Franqui
Recalling contemporary classics such as Americanah, Behold the Dreamers, and The Brief Wondrous Life of Oscar Wao, a funny, poignant, and insightful debut novel that explores the complexities of family, immigration, prejudice, and the American Dream through meaningful and unlikely friendships forged in unusual circumstances.
Pival Sengupta has done something she never expected: she has booked a trip with the First Class India USA Destination Vacation Tour Company. But unlike other upper-class Indians on a foreign holiday, the recently widowed Pival is not interested in sightseeing. She is traveling thousands of miles from Kolkota to New York on a cross-country journey to California, where she hopes to uncover the truth about her beloved son, Rahi.

A year ago Rahi devastated his very traditional parents when he told them he was gay. Then, Pival's husband, Ram, told her that their son had died suddenly - heartbreaking news she still refuses to accept. Now, with Ram gone, she is going to America to find Rahi, alive and whole or dead and gone, and come to terms with her own life.
Arriving in New York, the tour proves to be more complicated than anticipated. Planned by the company's indefatigable owner, Ronnie Munshi - a hard-working immigrant and entrepreneur hungry for his own taste of the American dream - it is a work of haphazard improvisation. Pavil's guide is the company's new hire, the guileless and wonderfully resourceful Satya, who has been in America for one year - and has never actually left the five boroughs. For modesty's sake Pival and Satya will be accompanied by Rebecca Elliot, an aspiring young actress. Eager for a paying gig, she's along for the ride, because how hard can a two-week "working" vacation traveling across America be?
Slowly making her way from coast to coast with her unlikely companions, Pival finds that her understanding of her son - and her hopes of a reunion with him - are challenged by her growing knowledge of his adoptive country. As the bonds between this odd trio deepens, Pival, Satya, and Rebecca learn to see America - and themselves - in different and profound new ways.
A bittersweet and bighearted tale of forgiveness, hope, and acceptance, America for Beginners illuminates the unexpected enchantments life can hold, and reminds us that our most precious connections aren't always the ones we seek.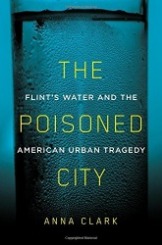 The Poisoned City: Flint's Water and the American Urban Tragedy, by Anna Clark
When the people of Flint, Michigan, turned on their faucets in April 2014, the water pouring out was poisoned with lead and other toxins.
Through a series of disastrous decisions, the state government had switched the city's water supply to a source that corroded Flint's aging lead pipes. Complaints about the foul-smelling water were dismissed: the residents of Flint, mostly poor and African American, were not seen as credible, even in matters of their own lives.
It took eighteen months of activism by city residents and a band of dogged outsiders to force the state to admit that the water was poisonous. By that time, twelve people had died and Flint's children had suffered irreparable harm.

The long battle for accountability and a humane response to this man-made disaster has only just begun.

In the first full account of this American tragedy, The Poisoned City recounts the gripping story of Flint's poisoned water through the people who caused it, suffered from it, and exposed it. It is a chronicle of one town, but could also be about any American city, all made precarious by the neglect of infrastructure and the erosion of democratic decision making. Places like Flint are set up to fail - and for the people who live and work in them, the consequences can be fatal.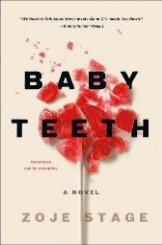 Baby Teeth, by Zoje Stage
A battle of wills between mother and daughter reveals the frailty and falsehood of familial bonds in award-winning playwright and filmmaker Zoje Stage's tense novel of psychological suspense, Baby Teeth.
Afflicted with a chronic debilitating condition, Suzette Jensen knew having children would wreak havoc on her already fragile body. Nevertheless, she brought Hanna into the world, pleased and proud to start a family with her husband Alex. Estranged from her own mother, Suzette is determined to raise her beautiful daughter with the love, care, and support she was denied.
But Hanna proves to be a difficult child.

Now seven-years-old, she has yet to utter a word, despite being able to read and write. Defiant and anti-social, she refuses to behave in kindergarten classes, forcing Suzette to homeschool her. Resentful of her mother's rules and attentions, Hanna lashes out in anger, becoming more aggressive every day. The only time Hanna is truly happy is when she's with her father. To Alex, she's willful and precocious but otherwise the perfect little girl, doing what she's told.
Suzette knows her clever and manipulative daughter doesn't love her. She can see the hatred and jealousy in her eyes. And as Hanna's subtle acts of cruelty threaten to tear her and Alex apart, Suzette fears her very life may be in grave danger…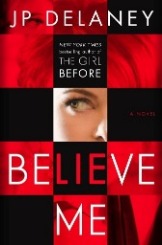 Believe Me, by JP Delaney
In this twisty psychological thriller from the New York Times bestselling author of The Girl Before, an actress plays both sides of a murder investigation.
"A compelling read . . . redefines the concept of an unreliable narrator . . . [a] rich, nuanced, highly literary take on the Gone Girl theme." - Booklist (starred review)
A struggling actor, a Brit in America without a green card, Claire needs work and money to survive. Then she gets both. But nothing like she expected.
Claire agrees to become a decoy for a firm of divorce lawyers. Hired to entrap straying husbands, she must catch them on tape with their seductive propositions.

The rules? Never hit on the mark directly. Make it clear you're available, but he has to proposition you, not the other way around. The firm is after evidence, not coercion. The innocent have nothing to hide.
Then the game changes.
When the wife of one of Claire's targets is violently murdered, the cops are sure the husband is to blame. Desperate to catch him before he kills again, they enlist Claire to lure him into a confession.
Claire can do this. She's brilliant at assuming a voice and an identity. For a woman who's mastered the art of manipulation, how difficult could it be to tempt a killer into a trap?
But who is the decoy . . . and who is the prey?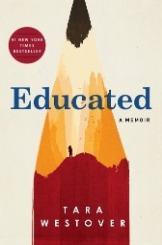 Educated: A Memoir, by Tara Westover
#1 NEW YORK TIMES BESTSELLER - An unforgettable memoir about a young girl who, kept out of school, leaves her survivalist family and goes on to earn a PhD from Cambridge University.
Tara Westover was seventeen the first time she set foot in a classroom. Born to survivalists in the mountains of Idaho, she prepared for the end of the world by stockpiling home-canned peaches and sleeping with her "head-for-the-hills" bag. In the summer she stewed herbs for her mother, a midwife and healer, and in the winter she salvaged metal in her father's junkyard.
Her father distrusted the medical establishment, so Tara never saw a doctor or nurse. Gashes and concussions, even burns from explosions, were all treated at home with herbalism.

The family was so isolated from mainstream society that there was no one to ensure the children received an education, and no one to intervene when an older brother became violent.
When another brother got himself into college and came back with news of the world beyond the mountain, Tara decided to try a new kind of life. She taught herself enough mathematics, grammar, and science to take the ACT and was admitted to Brigham Young University. There, she studied psychology, politics, philosophy, and history, learning for the first time about pivotal world events like the Holocaust and the Civil Rights Movement. Her quest for knowledge transformed her, taking her over oceans and across continents, to Harvard and to Cambridge University. Only then would she wonder if she'd traveled too far, if there was still a way home.
Educated is an account of the struggle for self-invention. It is a tale of fierce family loyalty, and of the grief that comes from severing one's closest ties. With the acute insight that distinguishes all great writers, Westover has crafted a universal coming-of-age story that gets to the heart of what an education is and what it offers: the perspective to see one's life through new eyes, and the will to change it.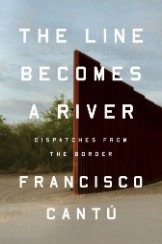 The Line Becomes a River: Dispatches from the Border, by Francisco Cantú
The instant New York Times bestseller, "A must-read for anyone who thinks 'build a wall' is the answer to anything." - Esquire
For Francisco Cantú, the border is in the blood: his mother, a park ranger and daughter of a Mexican immigrant, raised him in the scrublands of the Southwest. Haunted by the landscape of his youth, Cantú joins the Border Patrol. He and his partners are posted to remote regions crisscrossed by drug routes and smuggling corridors, where they learn to track other humans under blistering sun and through frigid nights. They haul in the dead and deliver to detention those they find alive. Cantú tries not to think where the stories go from there.
Plagued by nightmares, he abandons the Patrol for civilian life. But when an immigrant friend travels to Mexico to visit his dying mother and does not return, Cantú discovers that the border has migrated with him, and now he must know the whole story. Searing and unforgettable, The Line Becomes a River goes behind the headlines, making urgent and personal the violence our border wreaks on both sides of the line.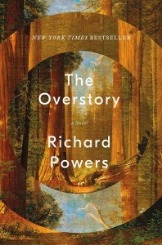 The Overstory, by Richard Powers
A monumental novel about trees and people by one of our most "prodigiously talented" (The New York Times Book Review) novelists.
An Air Force loadmaster in the Vietnam War is shot out of the sky, then saved by falling into a banyan. An artist inherits a hundred years of photographic portraits, all of the same doomed American chestnut. A hard-partying undergraduate in the late 1980s electrocutes herself, dies, and is sent back into life by creatures of air and light. A hearing- and speech-impaired scientist discovers that trees are communicating with one another. These four, and five other strangers - each summoned in different ways by trees - are brought together in a last and violent stand to save the continent's few remaining acres of virgin forest.
In his twelfth novel, National Book Award winner Richard Powers delivers a sweeping, impassioned novel of activism and resistance that is also a stunning evocation of - and paean to - the natural world. From the roots to the crown and back to the seeds, The Overstory unfolds in concentric rings of interlocking fables that range from antebellum New York to the late twentieth-century Timber Wars of the Pacific Northwest and beyond, exploring the essential conflict on this planet: the one taking place between humans and nonhumans. There is a world alongside ours - vast, slow, interconnected, resourceful, magnificently inventive, and almost invisible to us. This is the story of a handful of people who learn how to see that world and who are drawn up into its unfolding catastrophe.
The Overstory is a book for all readers who despair of humanity's self-imposed separation from the rest of creation and who hope for the transformative, regenerating possibility of a homecoming. If the trees of this earth could speak, what would they tell us? "Listen. There's something you need to hear."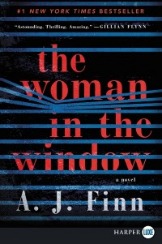 The Woman in the Window, by A. J. Finn
For readers of Gillian Flynn and Tana French comes one of the decade's most anticipated debuts, to be published in thirty-six languages around the world and already in development as a major film from Fox: a twisty, powerful Hitchcockian thriller about an agoraphobic woman who believes she witnessed a crime in a neighboring house.
It isn't paranoia if it's really happening . . .
Anna Fox lives alone—a recluse in her New York City home, unable to venture outside. She spends her day drinking wine (maybe too much), watching old movies, recalling happier times . . . and spying on her neighbors.
Then the Russells move into the house across the way: a father, a mother, their teenage son. The perfect family. But when Anna, gazing out her window one night, sees something she shouldn't, her world begins to crumble - and its shocking secrets are laid bare.
What is real? What is imagined? Who is in danger? Who is in control? In this diabolically gripping thriller, no one - and nothing - is what it seems.
Twisty and powerful, ingenious and moving, The Woman in the Window is a smart, sophisticated novel of psychological suspense that recalls the best of Hitchcock.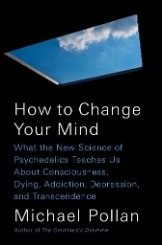 How to Change Your Mind: What the New Science of Psychedelics Teaches Us About Consciousness, Dying, Addiction, Depression, and Transcendence, by Michael Pollan
A brilliant and brave investigation into the medical and scientific revolution taking place around psychedelic drugs--and the spellbinding story of his own life-changing psychedelic experiences.
When Michael Pollan set out to research how LSD and psilocybin (the active ingredient in magic mushrooms) are being used to provide relief to people suffering from difficult-to-treat conditions such as depression, addiction and anxiety, he did not intend to write what is undoubtedly his most personal book.

But upon discovering how these remarkable substances are improving the lives not only of the mentally ill but also of healthy people coming to grips with the challenges of everyday life, he decided to explore the landscape of the mind in the first person as well as the third. Thus began a singular adventure into various altered states of consciousness, along with a dive deep into both the latest brain science and the thriving underground community of psychedelic therapists. Pollan sifts the historical record to separate the truth about these mysterious drugs from the myths that have surrounded them since the 1960s, when a handful of psychedelic evangelists inadvertently catalyzed a powerful backlash against what was then a promising field of research.
A unique and elegant blend of science, memoir, travel writing, history, and medicine, How to Change Your Mind is a triumph of participatory journalism. By turns dazzling and edifying, it is the gripping account of a journey to an exciting and unexpected new frontier in our understanding of the mind, the self, and our place in the world. The true subject of Pollan's "mental travelogue" is not just psychedelic drugs but also the eternal puzzle of human consciousness and how, in a world that offers us both suffering and joy, we can do our best to be fully present and find meaning in our lives.
There's nothing like a good book and a trip to Topsail Island to remind you about how good life really is! Let the friendly folks at Island Real Estate help you find the perfect vacation rental to compliment your beach book choice!
Have you read any of the books listed above? We'd love to hear your review! Add your opinions and suggestions to the comments below.
Do your friends love to read too? Help them find their best book to read on the beach by SHARING this post with them on social media!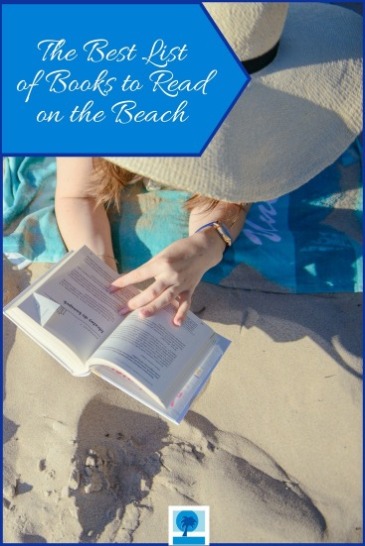 Comment on this post!