---
8 of the Best Fall Inspired Beach Decorations
Posted On Tuesday, October 15, 2019
---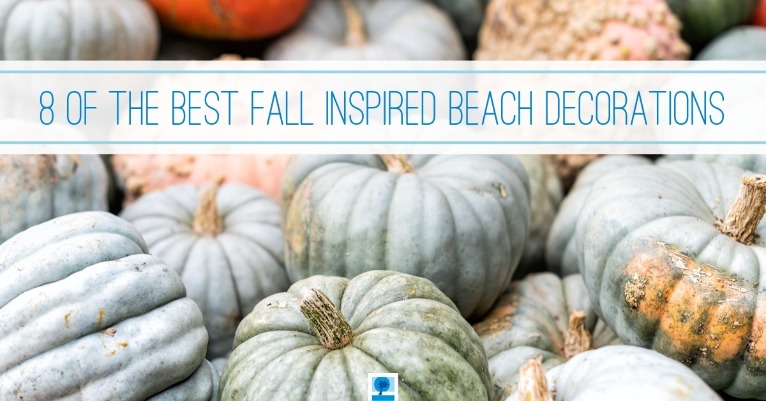 If you spent your summer hanging out at the beach and enjoying one of our Topsail vacation rentals, you may be all about the beach decor. Yet, many people think that the beach theme only works for summer, but we are here to tell you that just isn't true!
There are plenty of fall-inspired beach decorations that you will absolutely love. Get ready to fill your home with a beachy theme all autumn long.
Here are 8 of the best fall-inspired ideas:
Get the best of both worlds with this gorgeous coastal-inspired mantel. This simple DIY only requires a few shades of blue paint (or one blue and a white paint for lightening) and your small pumpkins or gourds.
Take some time to paint all of the pumpkins in different shades of blue which mimic the rest of your beach decor or the decor from your Topsail rentals. Pile the painted pumpkins on your mantel and you are ready to start entertaining!
Include the beach theme right on your front door with a coastal autumn wreath. Combine your traditional fall items like pumpkins, burlap, and grapevine with remnants of your time playing by the seashore.
Toss in some seashells, bits of net, or even a starfish or two. The teal and turquoise blues of the ocean pair really well with the orange and brown of typical fall decor. This DIY allows you to create a wreath that perfectly suits your tastes and the supplies you have on hand.
If you are headed to the beach in the off-season, you may just see some of these beachy pumpkins gracing the porches of many Surf City beach rentals. You can create some of your very own with the printable stencils found on the Coastal Living page.
Choose from a whale, an anchor, or an octopus. If you can't choose, then make all three! They group really well together, and you can mix and match your colors for a really fun and colorful look for your entryway.
If you need something that looks a little more formal and classic, but you still want to keep things on a beachy theme, you will love a monotone white centerpiece with coral accents. The coral is great as it can carry you right on into winter. The snowy white of the coral sculptures looks amazing with all of your glittery holiday decorations too!
You can generally find coral sculptures at decor stores like Pottery Barn or Hobby Lobby, but you should also check the seashore shops near the best Topsail vacation rentals. You are likely to find just what you need on the shelf next to the beach towels and tees.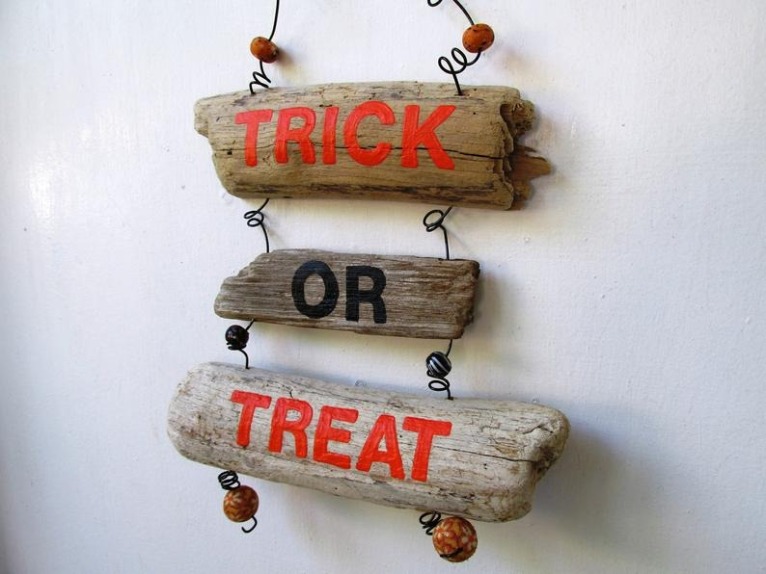 You can even give the spooky fun of Halloween a coastal theme when you toss in a little driftwood. This is a project you can easily DIY if you have a secret stash of driftwood left over from your last trip to the beach and your Topsail vacation rentals.
Even if you don't, you can still get the same style with the options available on Etsy. These driftwood Halloween decor boards also have a few adorable glass bead accents to really set the mood.
An ocean-colored pumpkin, a slender starfish, and a handful of air plants take these votives to the next (beachy) level. The air plants represent the lovely seagrasses while the delicate starfish completely sets the mood. You can use these votives as centerpieces, on the mantel, or simply scattered around the room.
While the HGTV version uses a creamy colored candle, you could switch yours up to match the rest of your fall decorations. Adding a lovely fall scent like pumpkin spice could be the final touch you need.
For some people, the time spent at their Surf City beach rentals makes them feel like the ocean is truly the place they wish to call home. Dare we say it makes them feel like mermaids or mermen?
If that's you, then you will definitely want to add mermaid corn to your fall decor designs. Using a little bit of rit dye, and you can easily add a beachy vibe to your fall table or mantel. The dye gives the corn a lovely aqua hue.
Your neighbors will be totally impressed with your skills when you make these DIY sand pumpkins for your doorstep. To make it work, you will need to bring home a bucket or two of beach sand back from your next vacation in your Surf City beach rentals.
A can of spray glue and your sand will turn an ordinary pumpkin into something coastal-ly extraordinary. You don't even have to have a real pumpkin, an old trick-or-treating plastic pumpkin will also work.
Now that you have these eight fantastic decor ideas, you can turn your home into a dreamy beach house, just like your favorite Topsail vacation rental. And if you really, really, really love the summer vibe... you are going to want to be sure to book your 2020 summer vacay NOW! Get the best weeks and your favorite rental while it is available.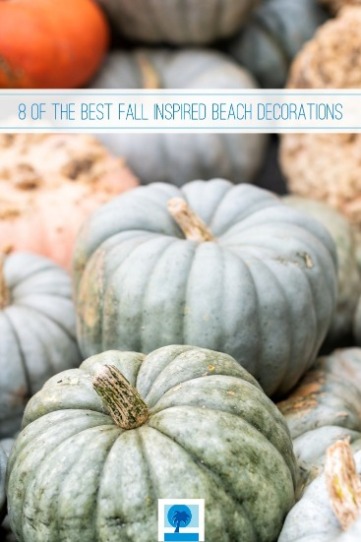 Make your fall beach beautiful!
Comment on this post!