---
How to Hit the Beach with a Toddler - And Survive!
Posted On Monday, April 19, 2021
---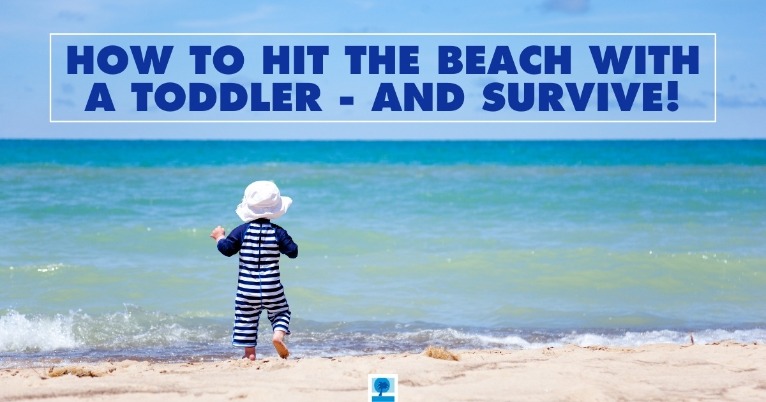 Yes! You can bring a toddler to the beach and not only survive, you can thrive.
Today we are going to share some strategies to try when you hit the beach with your toddler. After all, you need every trick in the book when traveling with one of these wily little creatures. Toddlers tend to be moody, needy, and gosh - they are fast! A day at the beach can quickly become stressful if you don't stay one step ahead.
Luckily for you, we have compiled some ideas to make your day AWESOME. So, book your Topsail Island vacation rental, pack up the car and bring the whole family to the beach! You've got this.

Bring lots of food
Toddlers are always hungry. Oh - who are we kidding - kids of all ages are always hungry! Bring plenty of snacks and drinks. Encourage your child to drink often, since the sun and ocean breezes are very dehydrating.
Rent an oceanfront home
That way, the potty, the refrigerator, and the bed are all just a few steps away. Renting an oceanfront vacation rental on Topsail Island will make your vacation SO much easier (check out oceanfront rentals here).
💡 TIP: Make sure your rental has an outdoor shower! Get the sand off your squirmy toddler & beach toys.
Invest in a rash guard bathing suit
Little ones need plenty of sunscreen, but sunburns can still happen so easily. To protect her delicate skin, try a long-sleeved rash guard suit. Get one for yourself, too!
Keep a flotation device on your child at all times
If you are near the water, your child should wear a flotation device. It will give you peace of mind should she wander toward the water quicker than you expect. Puddle jumpers are a popular choice for toddlers.
Sunscreen BEFORE swimsuit
Apply sunscreen before leaving your rental home. Get every nook and cranny, let it dry, and THEN dress your toddler for the beach. Bring a spray sunscreen in your beach bag to reapply. Try a stick version for her face and ears.
Think about potty provisions
Whether your tot is already out of diapers or still working on it, the potty seems to play a huge role in any family vacation! Remember that disposable swim diapers are great for containing the "solid stuff", but are not meant to contain urine. Put a regular diaper back on if you head to the car or a restaurant! You might also try a reusable swim diaper like this one. If your child is in the middle of potty training, consider bringing a portable potty (see examples here) to the beach. Line it with plastic bags for easy disposal!
Bring just a few fun toys
Kids this age are so happy with a simple bucket, rake, shovel, and other digging tools. Our toddlers also loved to bring their favorite matchbox cars or small plastic dolls to the beach. Someone has to live in that cool sandcastle!
💡 TIP: Cooking utensils from the dollar store make awesome beach toys!
Keep it short
Go out first thing in the morning, then take a break back at the vacation rental. Then, try going out again later. Keep beach trips short, so that your child doesn't melt down from heat, sun, hunger or boredom.
Throw some shade on the situation
It's really nice to have a shady spot for your little one to chill out while visiting the beach. Try a lightweight beach tent, or consider renting a set-up from one of our local companies here on Topsail Island. Make sure whatever you erect is secured tightly in the sand. We have seen more than a few umbrellas flying down the beach!
Dig a wading pool
Your little one will probably find the ocean's waves intimidating. Dig out a spot in the sand near your beach setup and fill it with water from the ocean. Older siblings will love helping with this project. Then, your toddler will have her own little pool to play by your side!
⚠️ Remember to always watch your child while she is near the water, no matter how shallow. Also, fill in the hole before you leave for the day to keep other beachgoers (and traveling sea turtles safe). ⚠️
Bring a small spray bottle filled with icy water
An icy cold spray from a water bottle feels so great! If you notice your child getting over heated, a quick spray can refresh him. Also, a spray bottle is a great way to get sand off little hands before diving into a bag of snacks.
Photograph everything
You are about to witness some pretty adorable moments. Take a series of photos as your toddlers feet first hit the water. Get a close up as she examines a seashell. And capture that amazing beach nap.
💡 TIP: Get a waterproof case for your phone. Try something like this.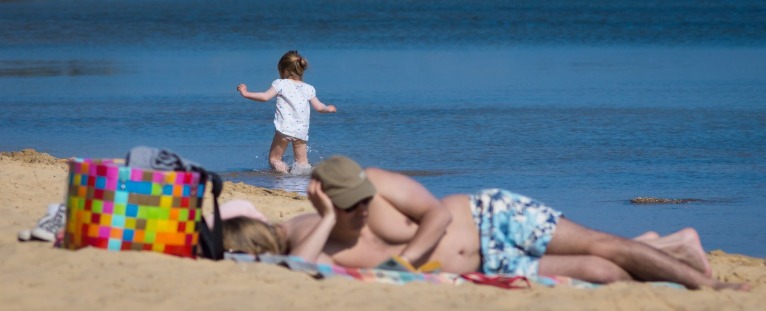 More helpful blogs to plan your toddler-friendly vacation:
Comment on this post!