---
Love Sea Turtles? Topsail Island Does, Too!
Posted On Monday, February 8, 2021
---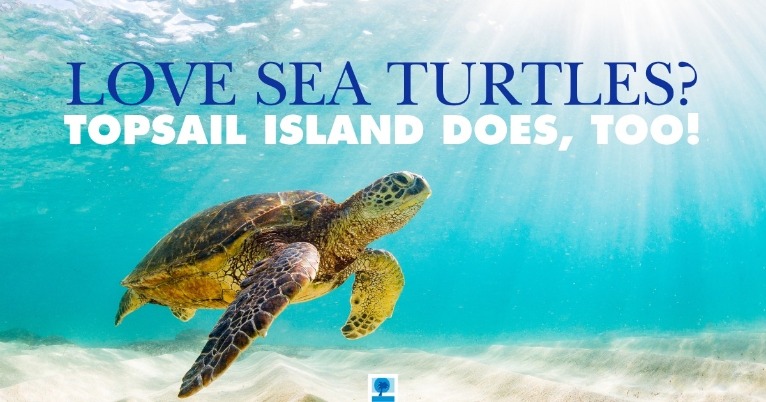 The people of Topsail Island go to great lengths to promote and protect the sea turtles that make this area home. If you would like to learn more about the sea turtles of Topsail Island, give this blog a quick read! We bet you will learn a few things about these cute reptiles, and researching the wildlife of your favorite vacation spot will only make your trip more interesting.
Facts about sea turtles:
The types of turtles found here include Loggerheads, green turtles, leatherbacks and the diminutive Kemp's Ridley sea turtle.
Sea turtles are reptiles.
Loggerheads are the most common to nest on our shores.
Nesting season is between May and October - which is also tourist season for Topsail Island! This is why it's important for visitors to understand how to protect these creatures.
A nest full of sea turtle eggs is called a "clutch".
Sea turtles do not have teeth! They do have very sharp beaks.
A female sea turtle returns to the beach of her own birth to lay her eggs.

There are usually about 100 eggs in a nest. They take about 60 days to hatch.
Sea turtle hatchlings are so vulnerable! They are often prey to sea birds and other hungry creatures.
Loggerheads are carnivores. They snack on crustaceans, fish, and other marine animals.

A loggerhead can live up to 50 years in the wild, and can weigh about 250 lbs.
The temperature of the sand in which turtles are hatched determines their sex. Higher temperatures produce more female eggs.

Read more about the Loggerhead Sea Turtle on nationalgeographic.com.
Did you know that Topsail Island has its own sea turtle hospital?
The Karen Beasley Sea Turtle Rescue & Rehabilitation Center is located in Surf City and their mission is to rescue, rehabilitate, and release sick and injured sea turtles back to the ocean. Also, they seek to educate residents and visitors about these beautiful creatures.
Keep track of their website and Facebook page for business dates and hours.
302 Tortuga Lane, Surf City, NC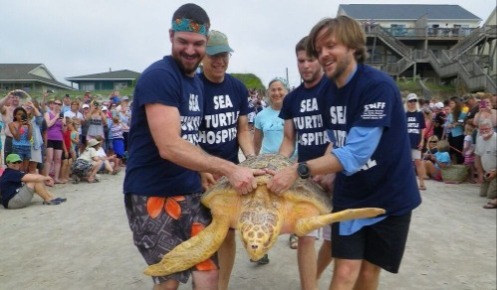 How you can protect sea turtles:
There are several things you should think about when visiting a beach like Topsail Island, which is a popular breeding ground for sea turtles.
Fill in any holes you dig in the sand. A large hole in the sand could be perilous to a mama sea turtle and her tiny hatchlings when they head to the ocean at night!
Keep the beach clean. A wayward plastic bag or discarded wrapper is dangerous for our wildlife. This is especially true of fishing wire or netting.
Turn off the lights! Hatchlings can become disoriented by lights along the shore, like those coming from Topsail Island vacation rentals. Before retiring for the night, please turn off the porch lights and even indoor lights, if you can.

Don't ever disturb a sea turtle nest. Many will be marked off by our island's wonderful volunteers. It's ok to peek, but do not disturb or touch the nest in any way! Do you see a nest that is not marked? Feel free to report it to the Karen Beasley Sea Turtle Rescue at 910-329-0222.
Topsail Island is home to many different types of wildlife. During your visit, you are likely to spot dolphins or porpoises frolicking in the surf. You will also observe several species of sea bird, crabs, jellyfish, sand dollars and more. Because Topsail Island isn't very crowded or commercialized, we are able to live in harmony with all of these amazing creatures. Thank you for respecting and appreciating the wildlife of Topsail Island, and we hope to see you soon for your next beach vacation.
Comment on this post!